Measuring Media:
Gas, Liquid, Surrly
Measuring Principle:
Coriolis
Measurement Object:
Closed Pipeline
Max.Flow Rate:
3000kg/Min
Operating Voltage:
AC85~265V, DC24V
Loss of Pressure:
Less Than 0.2MPa
End Connection:
Dn80 Flange(3*1/5 Inch), Customizable
Ex-Proof Grade:
Ex[Ib]Iibt1~T6 GBÂ /Â Ex[Ib]Iict1~T6 GB
Temp. Rating:
-50 Deg. C~+200 Deg. C
Communication Port:
RS485 Modbus RTU
Transport Package:
1 Set / Carton
Instroduction of Mass Flow Meter 
The mass flow meter is designed and produced according to world's latest Coriolis technology, with better appearance, stability and accuracy to measure mass flow rate of a fluid traveling through a tube, widely applied to alternative energy, oil & gas, chemical, food & beverage, industrial energy, marine, metals and mining, power, pulp & paper, water & wastewater industries, etc.

All Products of Sealand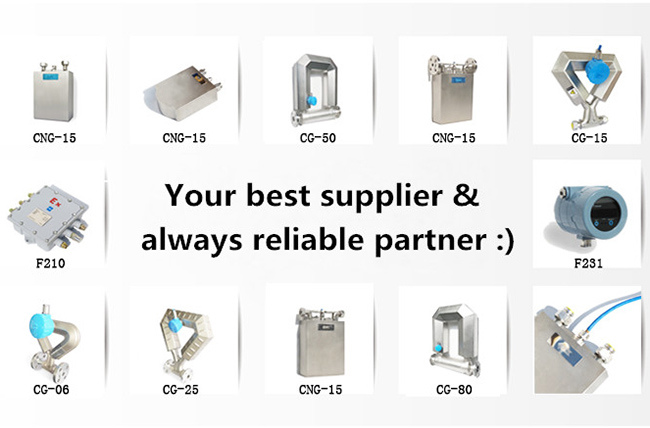 The Parameters of Mass Flow Meter
Mass flow meter CG-80 consists of sensor & transmitter
Specifications of sensor
Gas accuracy
±0.5%
Liquid accuracy
±0.2%
Temp. accuracy
±1°C
Loss of pressure
≤0.2MPa
MWP
4MPa
Temp. rating
-50°C~+200°C
End connection
DN80 flange(3*1/5 inch), customizable
Ex-proof grade
Ex[ib]IIBT1~T6 Gb / Ex[ib]IICT1~T6 Gb
 
 
Specifications of transmitter
Temp. rating
-20°C~+50°C
RH
≤95%, non condensed

Atmospheric

 

Pressure

86~106Â kPa
Operating voltage
AC85~265V, DC24V
Communication port
RS485 Modbus RTU
Ex-proof grade
Exd[ib]IIBT4Gb
 
 
Main parameters of mass flow meter
Model no.
CG-80
Mass accuracy grade
0.2
Temperature accuracy
±1°C
Zero stability
0.115kg/min
Repeatability
0.25%
Max. flow rate
3000kg/min
Nominal diameter
80mm
Fluid temperature
-200~200°C
Wetted parts
Stainless steel 316L
Sensor housing
Stainless steel 304
Packing
1set/carton
Warranty
2Â years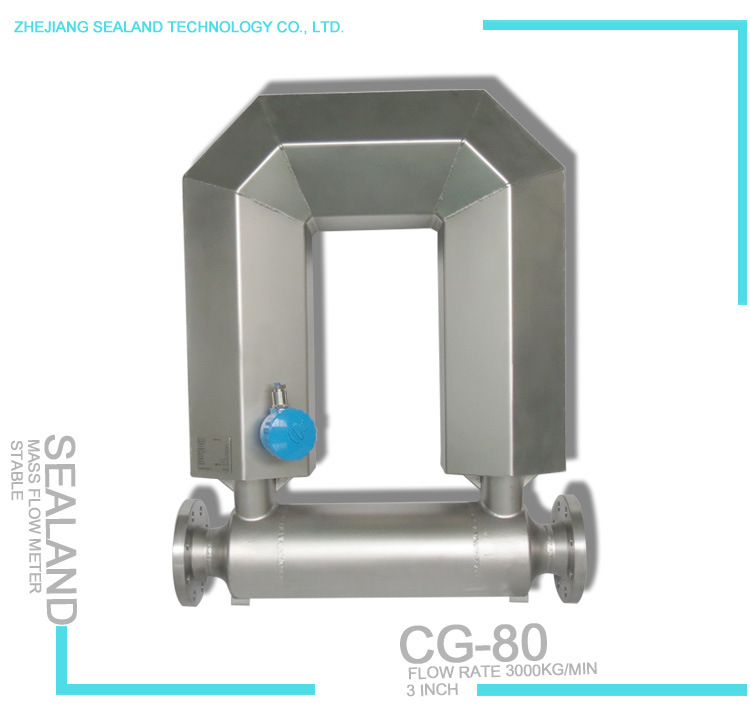 Installations of Mass Flow Meter CG-50





Certificate &Â Packing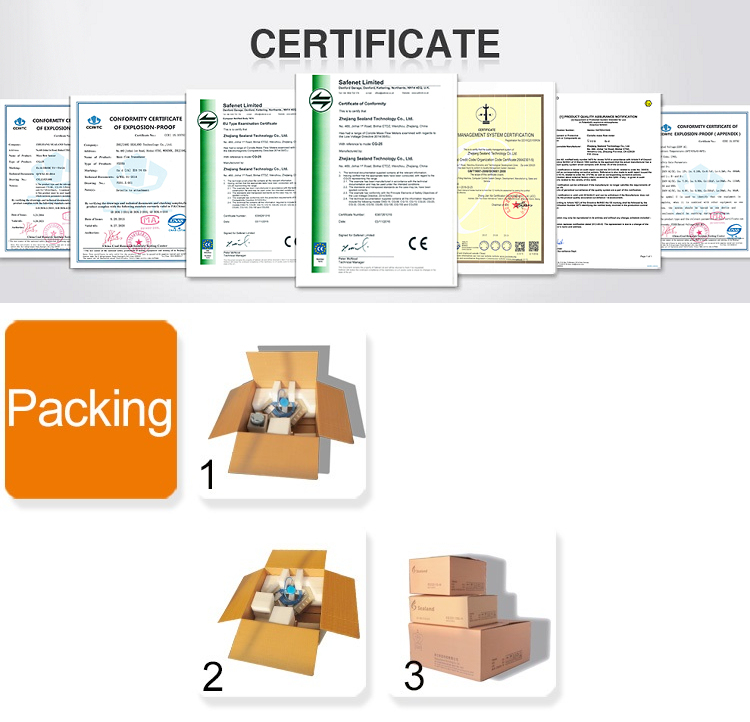 Applications of Coriolis mass flow meter    

Sealand Coriolis flow meter family measures direct mass flow rates of liquids and gases in virtually all applications without special calibration. Safety, reliability, quality, and our innovative technologies enables us to provide a broad range of industry-specific products and services - and the expertise to put them to work for you.
Alternative Energy
Oil & Gas
Chemical
Food & Beverage
Industrial Energy
Life Sciences
Marine
Metals and Mining
Power
Pulp & Paper
Refining
Water & Wastewater
Others 
Advantages of Coriolis mass flow meter
1. Maintenance-free
2. HIgh accuracy & reliability
3. Shows many parameters simultaneously, such as mass flow, temperature & desity
4. Compact design with no moving parts, no special mounting and no flow conditioning required.

Our company

Be founded in 2009;
Building area: 40,000Â m2;
Registered Capital: CNY 45 million;
R&D of Coriolis mass flow meter since 1990.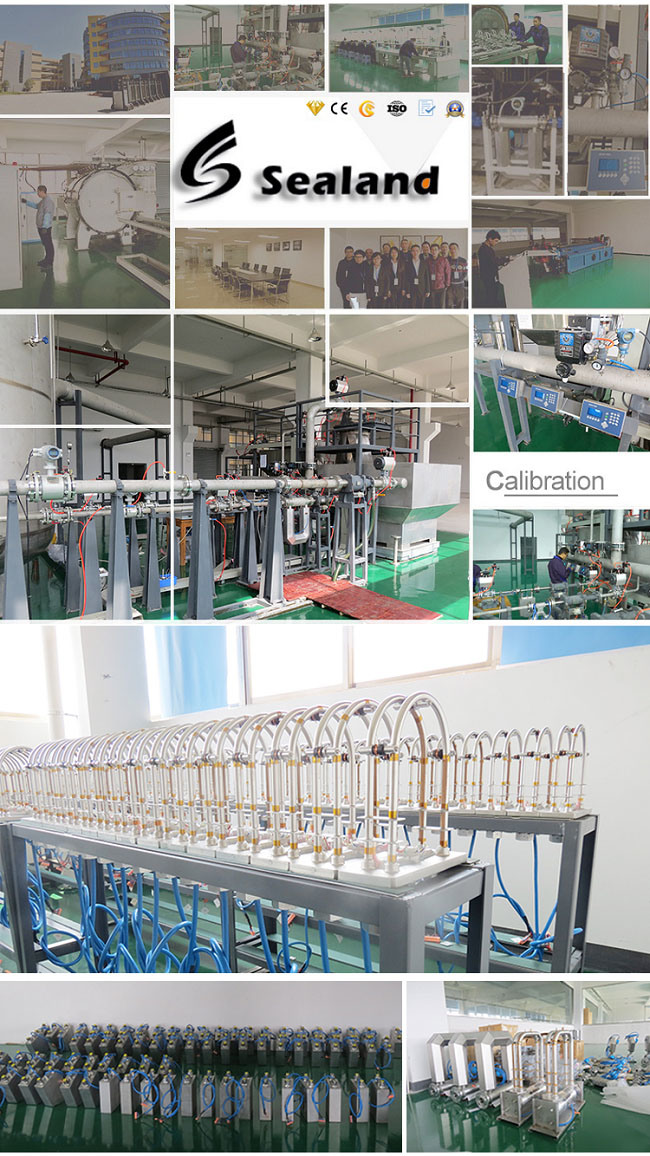 Why Sealand?

1. Sealand is professional, with senior engineers from the first research team in this field in China, and junior one from college, to keep improving.
2. Sealand is experienced. It started to research and develop in 1990. All employees are stable here; even the production-line workers have worked here for more than 5 years.
3. Sealand mass flowmeter can be used in many fields, with a flowrate from 0 to 3000kg/min, and the connection ends are customizable.
4. Sealand strictly controls the quality from raw material to finished products, and all products will be inspected and tested before shipment.
5. Sealand cooperates with efficient logistics, to help cut down the shipping cost and time.
6. The warranty is 2 years, but technical support is always available.
 
FAQÂ Â Â Â  Â  Â  Â  Â  Â  Â  Â  Â  Â  Â  Â  Â  Â  Â  Â  Â  Â  Â  Â  Â  Â  Â  Â  Â  Â  Â  Â  Â  Â  Â  Â  Â  Â  Â  Â  Â  Â  Â  Â  Â  Â  Â  Â  Â  Â  Â  Â  Â  Â  Â  Â  Â  Â  Â  Â  Â  Â  Â  Â  Â  Â  Â  Â  Â  Â  Â  Â  Â Â 
1.Customer: May I release trial order, 1 pc for example?
   Sealand: Certainly, trial order is acceptable. In general, we have common models in stock. Sample will be sent within 1 week, after payment is received.

2.Customer: Could you design according to my requirements?
   Sealand: Of course, our team will design for you, to make our mass flowmeter work perfectly at your end.
With a Cnc Router from UTECH International you will be able to greatly expand the capabilities of your shop, reduce labor hours, improve efficiency, and become more competitive in your market. A wide range of process areas we can accommodates all standard sheet sizes and an endless supply of CNC machine options, you can ensures that all woodworking needs are met.
Add an automatic tool changer for ultimate productivity when using multiple tools, multi-spindles for improving process efficiency and a high-power vacuum pump system to holds your materials in place on the zoned vacuumed bed.
Power your UTECH CNC router with virtually any CAM software, including ArtCAM, Vectric, Enroute, Type 3, AlphCAM or Mastercam. Connect your cabinet design software (KCDW, CabinetPro, RouterCAD, Cabinet Vision) to one of these CAM programs to create a complete nested based manufacturing solution.
MATERIALS:
Our CNC machines can easily process any of the following materials for the production of cabinet parts, furniture and furniture frames, dovetail drawers, mantles, decorative carvings, three-dimensional reliefs, and virtually anything else you can imagine.
Wood: Plywood, Soft Wood, Hard Wood, MDF, Chipboard
Plastic: Acrylic, ABS, HDPE, PVC, UHMW, HDPE

Stone: Granite, Marble, Slate, Basalt, Pebbles, Natural Stone, Ceramic, Porcelain

Metal: Aluminium, Brass, Copper, Mild Steel, Stainless Steel




Composite: Aluminium Composite, Copper Composite, Titanium Composite, Zinc Composite.

Cabinet & Door & Casegoods Making CNC Router:
Furniture: ideally suitable for processing cabinet door, wooden door, solid wood furniture, panel wood furniture, windows, tables, and chairs, etc.
Well-suited for processing panel, insulating materials, plastic, epoxy resin, carbon mixed compound, etc.
Decoration: acrylic, PVC, density board, artificial stone, organic glass, soft metals like aluminum and copper,
Designed to meet diverse and complicated processing requirements, highly versatile with routing, drilling, cutting, side milling, sawing and other functions.
Vacuum worktable fitted with aluminum alloy bars and suction cups is rigid yet flexible for various configurations. Cropping the full sheet to your ideal size, routing, drilling, sawing, cutting, and milling-multiple functions, all in one.
Features:
Separate heads:
Some wood routers have multiple separate heads that can come down simultaneously or not. Some routers have multiple heads that can run complete separate programs on separate tables all while being controlled by the same interface.
Dust collection / Vacuum Collector:
The wood router typically has 6"-10" air ducts to suck up the wood chips/dust created. They can be piped to a stand-alone or full shop dust collection system.
Some wood routers are specialized for cabinetry and have many drills that can be programmed to come down separately or together. The drills are generally spaced 32 mm apart on centres - a spacing system called 32 mm System. This is for the proper spacing of shelving for cabinets. Drilling can be vertical or horizontal (in the Y or X axis from either side/end of the workpiece) which allows a panel to be drilled on all four edges as well as the top surface. Many of these machines with large drilling arrays are derived from CNC point-to-point borers.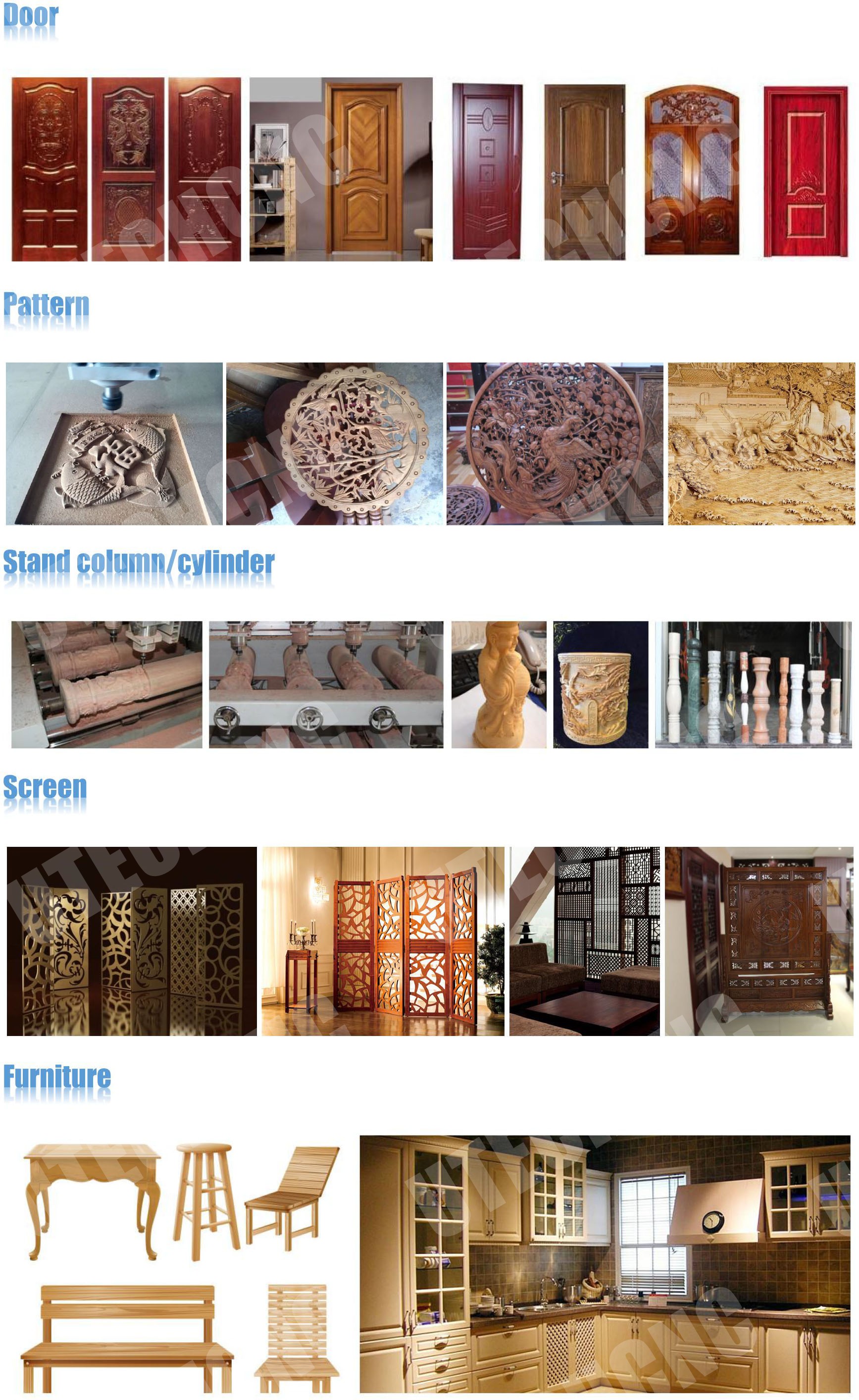 Woodworking Cnc Router
Woodworking Cnc Router,Wood Cnc Router,Woodworking Carousel CNC Router,Multicam Cnc Router
Shandong U-May CNC Technology Co., Ltd. , https://www.fiberlasers.de