In the past two years, the growth of natural gas heavy trucks is gaining momentum, and the industry has made it obvious that Valin Xingma will naturally not let go. On May 22, Valin Xingma and Furuidian signed a cooperation agreement. The two parties will jointly develop LNG (liquefied natural gas) automotive industry equipment and application products to form a close cooperative relationship with the strategic supply chain.
Lock LNG target


In fact, as early as 2006, Valin Xingma has developed a CNG heavy truck, but due to the immature environment for market development, Valin Xingma has invested less energy in this market. In recent years, with the development of gas filling stations and the advantages of natural gas heavy trucks becoming more cost-effective, Hualing Xingma will focus its development this year on the LNG market.
However, the development potential of LNG heavy trucks has not only been seen by Hualing Xingma, but competitors such as Shaanxi Auto, China National Heavy Duty Truck, FAW Jiefang, and Futian have already been swiftly moved, and they have been working in this market for a long time.
Some people say that Valin Xingma started early in the morning and had a late set. In this regard, Valerie Xingma Chairman Liu Hanru told reporters frankly: "In recent years, we did not put more focus on this market, but it does not mean that we have lost opportunities for development."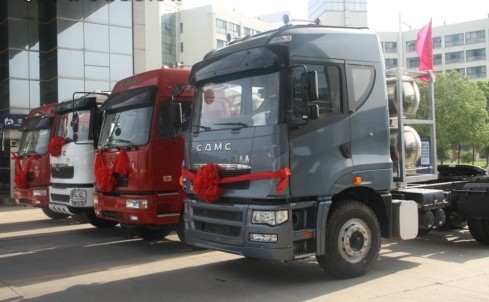 Hualing heavy truck LNG
<br>
strengthen multi-party cooperation

To grab a share in the LNG heavy truck market, such as the cloud, Liu Han has its coup. Working with Furtelite is a move to increase its strength. As the only domestic supplier with a complete solution for the entire LNG industrial chain, Furui installed the LNG vehicle air supply system and armored LNG vehicle filling station sales in China. Relying on their respective industry advantages, the two parties will build a one-stop solution for China's LNG vehicle industry equipment and jointly build a cooperation platform. The two sides will form a strategic partnership based on the principles of common development, good faith cooperation and mutual benefit, and achieve resource sharing and commonality. development of.
In terms of specific cooperation, the two parties plan to accelerate cooperation in the R&D, trial, variety substitution, and vehicle weight reduction of LNG vehicles, LNG storage, gas stations, etc., further expand the LNG product market, and increase the overall competitiveness of both parties. At the same time, in the supply of products and services, the three-in-one cooperation model of "marketing, training, and service" will be established to enhance the quality of the company.
In addition, both parties will share experimental equipment and technical resources, set up joint laboratories, strengthen cooperation in R&D of new models and new products, and jointly seek cooperation projects in the direction of the extension of the industrial chain to promote the core competitiveness of the industrial chain. To this end, the two sides will establish a custom-to-regular mutual visit mechanism for both parties, jointly establish a strategic cooperation promotion group, coordinate and resolve problems in cooperation, and promote closer cooperation between the two sides.
Liu Hanru said: "This year is the year of the heavy lifting of the Hualing Xingma LNG heavy-duty truck, and its cooperation with Furui Tei will surely result in a win-win or even a win."
In order to expand the market, it is one of the market strategies for natural gas heavy truck manufacturers to cooperate with gas suppliers to develop the market. In the LNG market, Valin has not only formed a alliance with Furrut, but also cooperated with Hebei PetroChina Kunlun Vehicle Gas Co., Ltd. and CNPC Jinhong Natural Gas Transmission Co., Ltd. to form a complementary relationship. The win-win partnership means that the two parties are mutually market-oriented. The gas company will solve the LNG refueling problem for its products and at the same time it will be a Hualing customer. Such a complementary alliance relationship will help Hualing expand its market share of natural gas heavy trucks.
Break through the blank market

In addition to relying on external forces, Valin Xingma also has some plans at the entry point of the market. As an automobile manufacturing company that has been listed for more than 10 years, Valin Xingma has strong competitiveness in special vehicles such as heavy trucks and concrete
Mixer
trucks. With its advantages, Hualing also aimed at the breakout point of natural gas heavy trucks in this market.
Liu Hanru disclosed to reporters that Valin Xingma locked the breach in natural gas mixers and mining vehicles. It is understood that at present, these two market segments have not yet been conquered. From then on, Hualing Xingma will only focus on products. Without the interference of competitors, the winning side will increase.
In 2012, Valin Xingma's LNG heavy trucks completed the market introduction. As of the end of April this year, Valin LNG heavy trucks have sold more than 500 vehicles and they have again won 120 large orders in the near future. The number of orders for the first quarter of this year has exceeded the total sales for the entire year. In light of this development momentum, Valin will have a good performance in the natural gas heavy truck market this year.
Cassava Drying Machine,Fruit Drying Machine,Herb Drying Machine
Sanshon Machinery Manufacturing Co., Ltd. , http://www.zjdryer.com