In public psychology, the main function of
sprinklers
is reflected in road dust and water cleaning. In our childhood memories, there are more or less deep memories of chasing and avoiding sprinklers. With the advent of reform and opening up, the city's modernization construction has advanced by leaps and bounds, and the ecological construction of villages and towns is changing with each passing day. People have given more functional changes to sprinklers. Sprinklers evolved from the simple frontal function of 1952 to the current forward, post-spray, and side-spray functions. In the 1990s, various types of vehicle units based on afforestation projects were creatively adding high showers and seedlings.
The functions of sprinklers today are varied and dazzling. Enter our factory area, you can see a variety of sprinklers, water truck prices, detachable water tankers, fire sprinklers, branches pruning sprinkler trucks, high-altitude operations sprinkler trucks, manure sprinkler trucks, trucks Crane sprinkler, landscaping sprinkler, road maintenance vehicles and so on.
Today, we are talking about fire sprinklers that have received widespread attention in 2008.
The predecessor of the fire sprinkler is the fire protection function covered by the traditional sprinkler. Some domestic factories, mines, communities and warehousing units need the green cleaning function of the sprinkler truck on the one hand, and on the other hand, they need to be able to deal with various types of fire fighting work under special circumstances. In the past 97 years, the sprinklers have changed. Not only have the basic configurations such as forward, rear, side spray, and high showers been added, but in order to deal with general firefighting work, sprinklers have added fire hydrant connectors to the water inlet system. , And in the rear of the body to add a green work platform, and installed on the platform can be rotated 360 degrees of green water cannons, the maximum range of up to 30 meters. In this way, the sprinkler can not only meet the conventional cleaning and dust-removing work. The newly installed green water cannons can perform irrigation and maintenance work on large-scale green vegetation. Of course, the prominent fire-fighting function has become the technological innovation of the sprinkler. No shortage of highlights.
In the beginning of 2015, Cixi Air-Fluid Brass Nickel-Plated Push to Connect Fittings passed 90,000 impulse test @ 500 bar working pressure in U.S.A Customers' Labotory.

Cixi Air-Fluid Brass Nickel-Plated Push To Connect Fittings passed the Quality tested by "National Quality Supervision and Inspection Center of Pneumatic Products" .
All the Cixi Air-Fluid NPT Tapered Threads with a groove on Hexagon body to easily distinguish it from the BSPT Tapered Threads Fittings.
The Cixi Air-Fluid fittings' come into configurations as below:
a.Brass Straight MNPT Male Push to Connect Fittings
b.Brass Straight Female NPT Push to Connect Fittings
c.90 Degree Elbow Brass Push to Connect Air Hose Fittings
d.Nickel-Plated Brass Branch Tee Push to Connect Fittings
e.Nickel-Plated Brass Run Tee Push to Connect Fittings
f.Brass N.P Bulkhead Female NPT Thread Fittings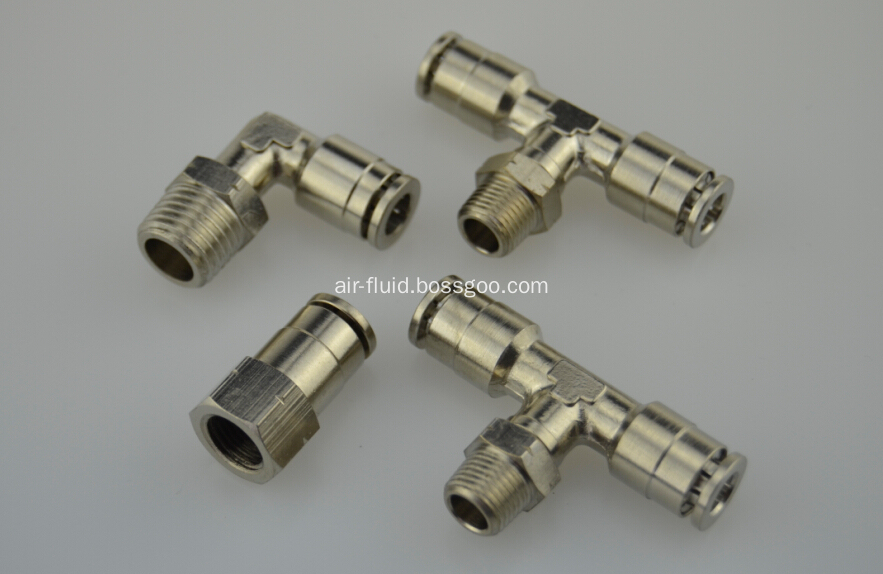 NPT Thread Brass P.T.C Fittings
NPT Thread Brass P.T.C Fittings, PTC Air Fittings, NPT Brass Fittings, NPT Thread Fittings
Ningbo Air-Fluid Pneumatic Components Co., Ltd , http://www.air-fittings.com